Click on images for larger version
Annual Seniors Christmas Party – December 2019
It's always a festive time at the Seniors at Home annual Christmas Party. A crowd of 200 attended the event on Friday December 13, 2019 at St. John Chrysostom Parish Hall. Arnprior's local fire department volunteered their time to serve a delicious turkey meal with all the fixings, catered by Jim's Restaurant, while the musical stylings of Rick Leben entertained. Door prizes were drawn, as well as the bi-annual Mega 50/50 announced, with winner Colleen Blimkie taking home a $1,222.50 prize! Seniors at Home would like to extend a kind thanks to our agency volunteers for their time and effort, making this year's event a great success and to Kathleen Bender and L'Arche Arnprior for creating the beautiful party favours. Special thanks to our generous sponsors; RONA, Prior Engagements, Milanos, Mama Rosas, Arnprior Villa, Island View Suites, Carp Commons Retirement Village, Knights Inn, Mel's Flowers, Pilon Family Funeral Home, and Boyce Funeral Home.
Friendship Days – Breakfast N Learn – Dining with Friends – 2019
20th Annual Seniors BBQ in the Park – July 2019
On Thursday July 18th, Arnprior-Braeside-McNab Seniors at Home Program Inc. held their 20th Annual Seniors BBQ at Robert Simpson Park. The sun was shining that day for the wonderful crowd as they enjoyed great company, food and entertainment by Gillan Rutz. Thank you to all the staff and the many volunteers who made this event possible. Also a big thanks to all the community sponsors:  Arnprior Villa, Island View, Carp Commons, Giant Tiger, Mark's No Frills, Boyce's Funeral Home, Pilon's Funeral Home, Betty's Chips, Brian's Spuds, Missy's Fries, Wes' Chips, Joe Townley's Garden Fresh Produce, Madawaska Golf Club, Arnprior District High School and the Town of Arnprior. Your help is greatly appreciated.
The Grand Parade – June 2019
ABMSH Volunteer Appreciation Dinner – May 2019
Arnprior-Braeside-McNab Seniors at Home Program Inc. hosted their annual Volunteer Appreciation Dinner at the St. John Chrysostom Parish Hall on May 24th,   as one way to show their immense gratitude to all the wonderful volunteers that contribute their time and effort to the agency.  Their kindness truly makes a difference. New volunteers that attended the event received pins of recognition for their volunteer work, and a special presentation was made to Mike Marcel owner of Giant Tiger, for Giant Tiger's continued and valued support to the agency. Guests enjoyed a delicious dinner catered by Riley's Catering Co., and were thoroughly entertained by a Rachelle Ellie's hilarious comedy performance. Thanks to Prior Engagements and Mel's Flowers for their help in the event.
Left to right: Comedian Rachelle Ellie, with help from Barry LaBrie, Dan DuBois and Richard Quirt
Spring Yard Sale – May 2019
THANK YOU to all who donated their gently used items, or time to volunteer at our Spring Yard Sale, this past Saturday. The weather held out and the event was a great success, bringing in over $2000 in support of our programs and services. Special thanks to RBC – Arnprior Branch, for lending a hand and sponsoring the event!
Seniors Information and Active Living Fair – March 2019
We had a great turn out for the Seniors Information and Active Living Fair at the Nick Smith Centre. Great to see everyone who stopped by our booth for info and a chat! Greeting folks here is ABMSH Executive Director Dennis Harrington.
Kathleen's Creations – March 2019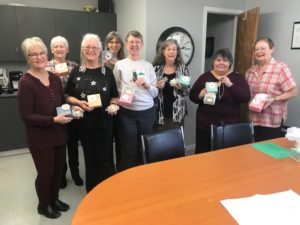 Kathleen's lovely ladies have 'Sprung into Spring' making these lovely origami folded decorated gift boxes that hold a tea lite candle holder and a candle snuffer (made with roof flashing).
Each box is made with beautiful pastel spring coloured paper and decorated with daisies and butterflies – each unique to its creator!
The group meets every month from September to June generally on the third Wednesday of the month and the workshops are free but limited space is available so call (613-623-7981) to put your name on the waiting list.
Nothing spells 'FUN' like crafts, laughter and friendship and nothing spells 'YUM' like 'tea and treats'!
 Next Workshop is Tuesday, April 16, 2019 from 1:00 – 3:00 pm at ABM Seniors at Home (106 McGonigal Street West).
St. Patrick's Day Breakfast – March 2019
Arnprior-Braeside-McNab Seniors At Home Program Inc. provided a delicious start to the St.Patrick's Day weekend! Staff and volunteers were up at the crack of dawn to cook and serve a delicious pancake breakfast at the Christian Education Centre, on Saturday March 16th. Special thanks to our many agency volunteers, members of Arnprior Town Council, Township of McNab-Braeside Council, and RBC Arnprior Branch, for your exceptional job preparing and serving breakfast. Performers from Arnprior School of Dance entertained us with magnificent dancing and singing performances! We hope all those who attended had a wonderful time – we greatly appreciate your support. Our generous sponsors, include, RBC – Arnprior Branch, Knight's Inn, Shoppers Drug Mart, Mama Rosa Restaurant, Jim's Restaurant, Xtreme Trampoline, Ottawa 67's, and Melitta Coffee
From left: Arnprior Mayor Walter Stack, County Councillor Dan Lynch, Monique Lynch, and Barbara Stack
Arnprior's Music Trivia Night – March 2019
What a night…Music Trivia Night, that is! The community was out in full force on Friday, as the Nick Smith Centre was packed with enthusiastic teams for our 4th Annual Music Trivia Night in support of Arnprior-Braeside-McNab Seniors At Home Program Inc. and Arnprior Regional Health. Jason Marshall, of Valley Heritage Radio did not disappoint, with an array of questions, music clips, live entertainment, and lots of laughs. After a nail-biting tie breaker, the winning team, Looney Tunes, came away with bragging rights and a coveted spot on our "Top Musical Prodigies" plaque! Thank you to our wonderful volunteers and to all those who supported this event by entering a team.
Dining with Friends – Jim's Restaurant – January 2019
Another fabulous "Dining with Friends" was held at Jim's Restaurant. Sponsored by Arnprior-Braeside-McNab Seniors At Home Program Inc., Dining with Friends is an excellent opportunity for Seniors to enjoy a delicious meal and musical entertainment, at a very reasonable price.
Tickets and meal selection must be made in advance. This event is hosted once a month from 5:00p.m to 7:00p.m. at Jim's restaurant – contact the Seniors at Home office 613-623-7981, or watch our Facebook and our website's Upcoming Events page for more details.
Special thanks to Jim's Restaurant for generously matching donations raised through calendars distributed to their customers – $450 will go to further supporting our programs at Seniors at Home.