2023
Arnprior Lionettes choose ABMS as this Year's Charitable Organization – May 25, 2023
A huge THANK YOU to our friends from the Arnprior Lionettes who chose Arnprior-Braeside-McNab Seniors At Home Program Inc. as this year's charitable organization! A cheque for the amount of $1,050 was presented on Thursday, May 18th.
Annual Shred-Day Event a Huge Success – May 16, 2023
Seniors At Home would like to thank our amazing community for their support of our Annual Shred Day Event fundraiser.  Over 250 boxes were destroyed by the professionals at DATASHRED Security and a relief to so many seniors!  Together, we raised over $2500.  We wish to send a HUGE SHOUT OUT to our wonderful volunteers and businesses who participated in this event.  Without their support, we could not fulfill our mission to helping those who need it the most!
The Easter Bake Fair & Cake Decorating Contest-Auction, April 6, 2023
The Easter Bunny came is many different forms this year for our 1st Easter Bake Fair & Cake Decorating Contest!   There were plenty of smiles, as there were sweets sold my multiple vendors under one roof at the Masonic Hall in town!  Judging was quite a challenge, as every single cake was nothing short of magnificent! Please click here to view some video highlights of the event.
Winners:
Best Overall Winner –     Sweet & Sassy (Bunny in a log)
Most Whimsical –              Teagan Banks (Easter Basket)
Rising Star –                         Tessa Moffatt (11 yr. old student – Easter watercolour cake)
The People's choice –        Kait Guttridge (Hoppy Easter Bunny cake)
We would like to thank the participating vendors and kind-hearted volunteers for their participation!  In addition, a HUGE SHOUT OUT OF THANKS to Under My Roof, The Peavey Mart, Metro, Canadian Tire and Hart for donations towards the prizes for our event.
St. Patrick's Music Trivia Night, March 17,2023
The Leprechauns were out in full force at our St. Patrick's Music Trivia Night! A heartfelt THANK YOU to all the teams who participated in our Fundraiser. Together we raised over $1400 which will go a long way in helping our local seniors.
Congratulations to the #1 Music Trivia Team, The Convergence Design Team, known as The Thirsty Philosophers, and the recipients of the #1 Team Spirit Award, Big Bad John and the Tipsy Chicks!
A special THANK YOU to our host Rick Leben and our generous sponsors who donated towards the first-place prize and door prizes. Businesses include: Under My Roof, #aspiraislandview, Claudia's Art /DecoFest, Metro Arnprior, Giant Tiger, Hart Arnprior 95, Peavey Mart and Riverside Grill and Bar
2022
Continued Generous Support for the Angel Tree Campaign – January 11, 2023
The trees are down but the Angels were plentiful!  Arnprior Braeside McNab Seniors At Home Program Inc. (SAH) are extremely thankful for the overwhelming support this past holiday season!
To date, we have raised over $18,000.00, thanks to our Community Partners; Rona, Northern Credit Union, Home hardware, Hart, Scotia Bank, Royal Bank, TD Canada Trust, CIBC, The Town of Arnprior, Township of McNab-Braeside and Arnprior Rural Health Hub!
100% of donations collected will go to help seniors and individuals with disabilities living in Arnprior and McNab-Braeside.  In fact, just last month we were able to top-up the Santa for Seniors Gift boxes with transportation & meal vouchers for 26 individuals.  Dollars will go a long way to help our clients throughout the year, not just during the holiday season but when an occasion arises.  Just a few examples include medical transportation, meals, emergency repairs, groceries, emergency dental care and groceries.
As a reminder, ANGEL TREE donations can be made year-round at the Seniors at Home office at 106 McGonigal St. W., Arnprior.  With the expansion of contactless donation options, we accept e-transfers to: [email protected], visiting our secure online donation page at www.cssagency.ca or credit card by calling our office at 613-623-7981.
Top:  Arnprior RBC Staff (left to right): Istaque Ahmed Sayed, Katherine Luckett, Usama Tariq, Sherry Schlievert, John McLaughlin, Laurie Selle, Melissa Fitzgerald
Middle left:  Arnprior Credit Union (left to right): Julie Brown of Northern Credit Union, Dennis Harrington from Seniors At Home, Crystal Phelps of Northern Credit Union
Middle Right: (left to right): Suzanne Giroux from Seniors At Home with Santa for Senior's organizer, Shivangi Rawat
Bottom Left:   Jennifer Major, Seniors At Home Volunteer at the Christmas Craft Fair
Bottom Right: (left to right): Arnprior Scotiabank employees, Helen, Sephanie and Amy
Annual Seniors Christmas Party Returns after a two-year absence – December 20, 2022
After a 2-year break, it was wonderful to once again be able to hold the Annual Seniors Christmas Party at the Parish Hall on Dec 16, hosted by Arnprior-Braeside-McNab Seniors at Home. Thanks to everyone who could make it out. It was a tonne of fun, with delicious food provided by Schmidt's catering and entertainment by Rick Leben, Pat Hallet and Jean Cote. There were prizes, a 50/50 draw, and a special visit from Santa Claus. You could tell from the smiles, laughter and dancing that everyone had a fantastic time.
Guests donated generously to the Arnprior Food Bank. A huge thank you to all the volunteers that helped with this event. We are also very grateful to our sponsors that helped make this event happen: Aspira Island View, Carp Commons Retirement Village, The Knights Inn, Mel's Flowers, Exquisite Decor and Design, Rona, Boyce Funeral Home and Pilon Family Funeral Home.
Northern Credit Union Donates $4,000 to Angel Tree Campaign, December 9, 2022
We are extremely grateful to Northern Credit Union of Arnprior for their generous donation of $4,000 towards this year's Angel Tree Campaign. Pictured in the presentation left to right is: Julie Brown – Branch Manager, Dennis Harrington – Executive Director, Arnprior-Braeside-McNab Seniors At Home Program Inc. and Crystal Phelps- Financial Service Representative (Level II) of Northern Credit Union.
Annual Christmas Craft Fair Fundraiser a Smashing Success, November 28, 2022
We want to say a big THANK YOU to our community for making our Annual Craft Fair fundraiser a smashing success! We had a great time hosting, and we hope you had a great time shopping with us.
~ Thank you to all of our vendors for creating a Christmas wonderland full of the best local treasures, and for donating towards our signature door prize packages! Stay tuned for the winners being announced this week.
~ Thank you to everyone who donated to our ANGEL TREE fund! Over $1,400 was donated at the event, with every cent going directly back into our community to assist Seniors in accessing essential services.
~ Thank you especially to our wonderful volunteers, without whom, none of this would ever be possible!
The lucky winners of our beautiful gift baskets below have been contacted! Congratulations to Henry, Vicki, Peter, Nathan and Elva! Many thanks to all that dropped by and supported our Annual Christmas Craft Fair!
Please Click Here to navigate to our Facebook Page and scroll down to view more Christmas Craft Fair Pictures
Negi's Family Bistro and Pub is your 'Chili Fest 2022′ Winner, November 11, 2022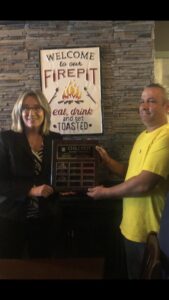 The judges truly had a difficult task selecting the top 3! We thank the super friendly Lynn Russett at Aspira Island View Retirement Living for organizing this fun event for Arnprior-Braeside-McNab Seniors At Home Program Inc.! We also thank our celebrity judges: Entertainer Rick Leben, Valley Heritage Radio Host Angry Reta and Valley Cruisers' Main Man Brian Gunn.
In addition, we are so appreciative for the support of our community along with the kind-hearted restaurants that supported this event.
A huge shout out too all the participating restaurants:
PJ's Restaurant, MJ Butcher Co., Bee Savvy Fine Foods, Negi's Family Bistro & Pub, The Prior Sports Bar and Family Restaurant, King of Munchies TexMex, Sweet and Sassy Cafe, Antrim Truck Stop, Krave Bistro, Riverside Grill and Bar and of course, Aspira Island View.
Please Click Here to see the all the amazing dishes from all of our participating restaurants.       
Wes' Chips Annual Give Back Day Benefiting Arnprior-Braeside-MacNab Seniors at Home a Huge Success – October 6, 2022
The beauty of autumn and generosity of Wes' Chips staff and clients were on full display on Sunday, October 2, 2022, during their Annual Give Back Day.  Proceeds of approximately $480 were raised towards Seniors At Home Programs.  In addition, we were pleasantly surprised to learn that our donations were not only matched but surpassed with a $1,000. donation by Wes' Chips!  A huge THANK YOU TO Wes's Chips and their amazing clients!
Seniors In Town Transportation Fares Decrease as of October 3, 2022

Huge Thank You to "The Village Market" in Burnstown for  Supporting Seniors at Home, Wednesday, August 31, 2022
A huge THANK YOU to Julie at The Village Market for supporting programs and services for seniors and individuals with disabilities. These fun Tee's will make a great gift for that special someone!
Annual Memorial Butterfly Release Ceremony, Sunday, August 21, 2022
Our hearts were full of love during the Arnprior Braeside McNab Seniors at Home Program Inc. Annual Memorial Butterfly Release which took place at Robert Simpson Park on Sunday August 21, 2022.  While we endured a sprinkle or two of rain, the sun came out moments before the butterflies took flight!  A huge shoutout to Lisa Smith from Boyce Funeral Home Ltd, Andre and Gina from Pilon Family Funeral Home, along with local musician Tony Boves, all of whom made our day extra special!
In addition, we wish to thank our amazing volunteers who helped at the park and the staff and residents at Aspira Island View Retirement Living who supported our Release in a private ceremony on Monday, August 22nd. We look forward to the next Release planned for August 20th, 2023 and wish to remind everyone that butterflies can be purchased year-round from Seniors Home Support.
A total of $3,655 was raised towards programs and services for seniors and people with special needs.
"Arnprior-Braeside-McNab Seniors at Home" hosts its Seniors BBQ in the Park – July 27, 2022
After a 2 year break, Arnprior-Braeside-McNab Seniors at Home was thrilled to be able to host their Seniors BBQ at Robert Simpson Park once again. It was a fun day with food, friends, games and music. A massive thank you to all the volunteers that helped out this year. Thanks to Gillan Rutz for the entertainment.
Also, a huge thanks to all the sponsors that contributed with either food, equipment or financially to this event:
Island View – Carp Commons – Giant Tiger – The Madawaska Golf Club – Pilon Family Funeral Home – Boyce Funeral Home – Betty's Fries
Brian's Spuds – Jim's Restaurant – King of Munchies – Mama Rosa's – Missy's Fries – Wes' Chips -Marshall's – Joe Townley – Arnprior District High School
Valley Cruisers Annual Father's Day Car Show & BBQ raises over $3,000 for ABM Seniors at Home Program – Friday, June 24, 2022
It was a windy but wonderful day at the Annual Father's Day Car Show & BBQ! Thanks to Valley Cruisers, the amazing volunteers, entertainers, and local businesses with hearts who donated great items for the Silent Auction.  This year's event raised over $3000 in support of Arnprior Braeside McNab Seniors at Home Programs!
A special shout out to Mark's No Frills and Giant Tiger for their generous donations towards our BBQ! We look forward to our next car event at The Annual Poker Run Show & Shine in Arnprior on July 30th!
Annual General Meeting Set for Wednesday, June 22, 2022
The Annual General Meeting of Arnprior-Braeside-McNab Seniors At Home Program Inc. Via Zoom Video Conferencing
on Wednesday, June 22nd, 2022, at 10:00am
An Annual Report along with the 2021-2022 Audited Financial Statements for the agency will be presented. The appointment of next year's auditor and the election of Directors for 2022-2023 will take place.
Memberships are required for voting purposes at a cost of $5.00 each and may be purchased prior to Tuesday, June 21st, 2022, at 4:30pm. Membership is open to those individuals 18 years and older. Members shall support the philosophy and objectives of the Agency.
Membership is open to residents in our service catchment area (Town of Arnprior & McNab/Braeside Township) and immediate family members of clients who are currently receiving service, regardless of their place of residence.
For more information, please contact Dennis Harrington, Executive Director at 613-623-7981
Arnprior Lions Club donates $8,000 from its latest Catch the Ace – May 2, 2022
"ABM Seniors At Home staff were honoured to have been the recipients on May 2nd of $8,000 in proceeds from the Arnprior Lions Club Catch the Ace. Our heartfelt thanks go out to each of the Arnprior Lions as well as to each individual who participated in the contest. Presenting the cheque were Arnprior Lions Don Gougeon, Dave Olmstead and Roger Larabie. Receiving the cheque on behalf of SAH was Executive Director Dennis Harrington and Development Coordinator Jocelyn Dunn."
Blue Envelope of Hope Campaign has now raised over $46,000 – April 20, 2022
Arnprior-Braeside-McNab Seniors at Home Program launched the Blue Envelope Campaign in May of 2020 as an urgent appeal to the community for financial support during the Covid-19 health crisis when all of our fundraising events were cancelled and most of our fee-based programs plummeted. Thanks to the wonderful community support, we were able to continue our mission despite these challenges and offered enhanced support services during the pandemic such as virtual programming, regular wellness checks for seniors and expanded our grocery delivery program to get our seniors through the first lockdown.
Fast-forward to June 2021 and as the majority of our fundraising opportunities were still on hold, you received our Blue Envelopes of Hope in your mailbox as this year's appeal for financial support to continue our services. We are grateful that YOU responded to our call for financial support and have kept our programs and services going. It is never too late to donate to the Blue Envelope of Hope Campaign, and your financial support is always crucial to our operations. Thank you for making a difference! Donations can be made in-person at 106 McGonigal St W, by phone 613-623- 7981, or by e-transfer to [email protected] (specify in the message section Blue Envelope donation and your contact information for charitable tax receipts).
Arnprior Lions Club "Catch the Ace" Raising Funds for Local Organisations -March 10, 2022
Congratulation to winner Colleen Piasetzki and many thanks to the Arnprior Lions Club for raising funds for local organisations including Arnprior-Braeside-McNab Seniors at Home.