New Program – Medical Assistive Devices Loan Program – October 3, 2020
Arnprior-Braeside-McNab Seniors at Home Program is very proud to introduce a new program: The Medi­cal Assistive Device Loan Program. This program was formerly run by the Arnprior Lions Club. We would like to thank the Lions Club for offering this program in the past and for working so closely with us to ensure a seamless transition.
How it works – We will keep a supply of used medical assistive equipment in an offsite storage facility such as:
canes
walkers
wheelchairs
commodes
bath seats
raised toilet seats and
other assistive devices
Items can be borrowed for short or long term use and are free of charge. We will gratefully accept donated equipment (by appointment only). Any returned or do­nated equipment must be clean and in good condition.
In order to maintain this program, monetary donations to the Medical Assistive Device Loan Program are gratefully accepted and assist with the maintenance and purchasing of equipment as needed. Charitable receipts will be given for any and all donations to this program. Donations can be received by cash, cheque, VISA/Mastercard at the agency office or e-transfer to [email protected]
To borrow or donate equipment, please call Nikki Rumbelow 613-623-7981 x 105 or email [email protected] to set up an appointment.  Hours of Operation Monday 2-4pm and Thursday 9-11am.
Blue Envelope Campaign – September 23, 2020
If you received your Blue Envelope in the mail and have yet to make your donation, it is never too late! We thank our wonderful community for your financial donations to date of $35,000.00.
The impact of the COVID-19 Pandemic is massive, your donations are very much appreciated in order to allow us to do the good work we do within our community for our seniors and disabled. Please click here for more information on our campaign. Thank you.
Summary of services provided in 2019 by Arnprior-McNab-Breaside Seniors at Home
Blue Envelope Campaign Update – August 13, 2020
Thanks to your generous support, our agency has received $32,822 through our Blue Envelope Campaign.
Yourtv
Ottawa Valley helping us spread the word about our agency mission and community support services – July 29, 2020
RBC Foundation selects Arnprior-Braeside-McNab Seniors at Home as a Covid-19 Relief Recipient- July 24, 2020
Generous Donation of 40 Masks by Island View Retirement Residence – July 7, 2020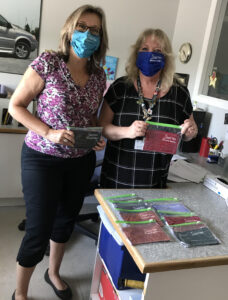 It is with gratefulness that I once again reach out and say "Thank You"!
Thank you to Lynn Russett, Office Manager at Island View Retirement Residence who graciously brought over 40 masks for our Regular Grocery Clients and our Hot Meal Clients.  They are beautifully designed, and are two sided.  On one side it has written "Island View Retirement Residence" and the other side is plain.  They fit so nicely.
Thank you for the incredible sewing abilities of Tina Matte and the great colours and materials chosen.  Thank you for your great big hearts!
Nancy Peck, Program Coordinator, Arnprior-Braeside-McNab Seniors at Home Program Inc
Blue Envelope Campaign Update – June 17, 2020
We are so thankful to have the support of this amazing community! Our agency has received $21,765 in donations to date through our blue envelope campaign!
Update: Twenty-three more masks donated by Trina Daze, Kristy Daze and Kaylee Carson on behalf of "Arnprior Churches Together in Service" – June 8, 2020
Thank you once again for the donation.
Also, thank you to all that have donated to our Seniors during this time of crisis and to all who drop by with Tim Hortons goodies and homemade treats from Board Members, Gateway Church and friends of Seniors at Home. Every one of us may think we're all alone – then someone reminds us that we are not.  Thank you for that!  Stay safe!  Stay healthy!  Stay happy! Nancy Peck, Program Coordinator
"Keep Smiling under these Homemade Masks!" – May 22, 2020
Our new connection between ACTS (Arnprior area Churches Together in Service) just keeps on giving.  Not only, together as a team, are we able to help out the Seniors in our Community with an 'additional' Grocery Program during COVID-19 for 'free' but we also just received an anonymous donation of 15 Face Masks with more to come, which was an anonymous donation through an ACTS initiative.
It is easy to see that the Masks are created and made with love, by Jenna Parmiter (1), Owner of, FLUTTERWINGS who graciously sold them at a discounted price.
Thank you to our ANONYMOUS DONOR for these beautiful Masks for our Seniors.
(1) Instructions on how to wear masks by Jenna Parmiter, owner of Flutterwings
"They've been through a lot': Arnprior volunteers on the road to support seniors – #KeepSeniorsSafe – April 29, 2020"
NEWS Apr 29, 2020 by Sherry Haaima  Arnprior Chronicle-Guide
Helping keep our seniors safe is Guy Robitaille of River Stone Christian Fellowship, who organized a contingent of volunteers to deliver groceries to Arnprior clients. – Derek Dunn/Torstar
It was perfect timing.
When Arnprior-Braeside-McNab Seniors at Home Program Inc. (ABMSH) put out the call for additional volunteers to help deliver groceries to local seniors, the ACTS (Arnprior area Churches Together in Service) Facebook page had just been created.
"We wanted to provide an outlet for everybody who had any needs in the community for local churches to rally and meet," said Guy Robitaille of Arnprior, noting it was Kimberly O'Brien from Gateway Church who created the page.
ACTS also contacted the seniors at home program, as well as the food bank, to see how members could help.
"Seniors at home had just received 21 new requests from seniors to provide shopping and delivery of groceries — it was really good timing — so I took that on," said Robitaille.
Because there's a requirement for drivers to be 55 and under ("I'm 62") Robitaille's task was to recruit and organize the ACTS volunteers.
"The drivers I was able to line up were from three different churches — River Stone Christian Fellowship, Gateway Church and First Baptist," said Robitaille.
He was surprised at how quickly he was able to organize the drivers.
"Within three or four days, we had 21 drivers," he said. "It was really unbelievable how fast the churches came together to offer  their help."
By all accounts, the clients as well as the organizations, have been great to work with.
NEWS"Every driver is paired with one senior, so there's a relationship being built. In this time, it's crucial seniors have some contact with the outside world, so to speak," said Robitaille.
To Robitaille, a desire to help comes naturally.
He's the founder and president of Love Made Real Ministries, a non-profit organization that supports widows and orphans in Guatemala, where he once lived.
"Since I've been back in Canada I'm devoting some of my time to community outreach through our church," said Robitaille who is outreach co-ordinator at River Stone Christian Fellowship in Arnprior. "That's just the way I am, I want to do the right thing."
ACTS volunteers have also been working with the Arnprior and District Food Bank, helping with delivery to vulnerable clients.
Pre-pandemic, Arnprior and Renfrew had a wealth of seniors' resources on offer. Home support agencies in both communities, as well as the Seniors' Active Learning Centre in Arnprior and Golden Age Activity Centre in Renfrew, provided plenty of services and activities for the large local seniors' populations.
The centres are now closed but some of the essential programs continue to run and need has increased.
"We're very concerned about the social isolation," said Dennis Harrington, executive director of both Seniors at Home organizations. "We're coming up with unique ways to alleviate some of the stress they're feeling at home."
Initiatives include daily wellness checks by phone and an extension of the shopping programs that were already in place.
"We make sure they're OK, ask if they have everything they need when it comes to groceries and medication," said Harrington. "We have community volunteers who have stepped up and we're very grateful to those volunteers."
Partnerships with local churches and organizations have helped bolster the volunteer contingent.
The frozen meal program has been extended and free delivery is being offered in town.
How are local seniors faring through the crisis?
"They are holding up OK. They're a strong group. They've been through a lot and they are holding up well," said Harrington. "We're getting good comments back and people are very appreciative of our phone calls."
If someone is aware of a senior who could use support he urged them to contact Seniors at Home.
"We'll reach out whether they're a client of ours or not," he said. "We want to see everybody looked after."
And he reminded seniors that help and support is just a phone call or email away.
Call 613-432-7691 or visit www.cssagency.ca.
The Seniors at Home groups themselves may eventually be facing a funding crisis.
"Typically, our agencies are funded about 45 per cent from the ministry," said Harrington. "The rest of that money comes from client fees and donations, which have all but seized. All these events that raise money to keep the light on and the doors open, they're not happening. If anyone would like to donate to any of the organizations throughout Renfrew County it would be most appreciated at this time."
STORY BEHIND THE STORY
Our seniors are among the most vulnerable as the coronavirus (COVID-19) pandemic continues. We checked in with our local seniors' agency and an Arnprior volunteer to see what is being done to keep seniors safe.
Welcome addition to the fleet of ABM Seniors at Home – March 2, 2020
A $400,000 grant from the Ministry of Transportation through the Ontario Community Transportation Grant program has provided a welcome addition to the fleet of Arnprior-Braeside-McNab Seniors at Home. Executive Director Dennis Harrington proudly showed off the acquisition this morning at Arnprior Town Hall.  Harrington says the new, large van brings Seniors at Home's fleet total to six vehicles and greatly enhances capacity. The accessible van approval was one of only 39 successful across Ontario.
The accessible vehicle to support the Local Community Transportation program has arrived. This new vehicle is available to Arnprior residents through a partnership agreement with the Ministry of Transportation (MTO), under their Ontario Community Transportation Grant program. Learn more here: http://ow.ly/vSMo50yAUXq
Para-Transit Care Coach Fundraiser reaches $28,000 – February 10th, 2020
We are less than $2000.00 away from our goal of raising $30,000.00 in support of our Para Transit CARE Coach! Help us to reach our goal by donating towards this essential service in our community. Please donate before March 31, 2020, in person at the Seniors at Home Office, 106 McGonigal St. W, Arnprior, Mon-Fri 8:30am-4:30pm or ONLINE at cssagency.ca. Charitable tax receipts are provided.
2019 News and Press Releases
goZoom.ca owners Ian & Lynda Fraser donate 100 Hot Turkey Dinners – December 2019
100 HOT TURKEY DINNERS, have been delivered to clients of the Seniors at Home Program over the past 2 weeks! Courtesy of the very generous Ian and Lynda Fraser of GoZoom and Katie Bears, and prepared by Sandee's Country Kitchen, the staff of Seniors at Home were very happy to coordinate and deliver these meals to some very happy recipients. Pictured from left are, Ian and Lynda Fraser, Laurie Dupuis (Seniors at Home), Sandee Rosein (Sandee's Country Kitchen), and Nancy Peck and Maurice Burnette (Seniors at Home).
Annual Seniors at Home Christmas Party – December 2019
It's Always a Merry Christmas with Seniors at Home!
It's always a festive time at the Seniors at Home annual Christmas Party. A crowd of 200 attended the event on Friday December 13, 2019 at St. John Chrysostom Parish Hall. Arnprior's local fire department volunteered their time to serve a delicious turkey meal with all the fixings, catered by Jim's Restaurant, while the musical stylings of Rick Leben entertained. Door prizes were drawn, as well as the bi-annual Mega 50/50 announced, with winner Colleen Blimkie taking home a $1,222.50 prize! Seniors at Home would like to extend a kind thanks to our agency volunteers for their time and effort, making this year's event a great success and to Kathleen Bender and L'Arche Arnprior for creating the beautiful party favours. Special thanks to our generous sponsors; RONA, Prior Engagements, Milanos, Mama Rosas, Arnprior Villa, Island View Suites, Carp Commons Retirement Village, Knights Inn, Mel's Flowers, Pilon Family Funeral Home, and Boyce Funeral Home.
BWXT Nuclear Energy donates %00 to the Dare To Caraa Campaign – December 11, 2019
Gordon Hill, B.A., Manager EHS and Quality, BWXT Nuclear Energy Canada Inc. Arnprior location, presented a cheque on behalf of BWXT in the amount of $500.00 to Seniors at Home as represented by both Mandy Stinson, Administrative Assistant and Dennis Harrington, Executive Director on Tuesday, December 11, 2019. The donation supports both the 'Angel Tree for the Love of a Senior' and 'Yellow Envelope Keep the Wheels Turning Para Transit Campaign'. Photo by Liz Wall
The good folks of Island View Retirement Residents (IVRR) presented a cheque in the amount of $470.00 to the Arnprior Braeside McNab Seniors at Home Program Inc. (ABMSH) Dare to Care Yellow Envelope Campaign with  funds raised through the residents council's card night.  On hand for the recent presentation, left, Luke Goulette, general manager (IVRR), Marjorie Hyndman, residents council, Colin Borshevsky, Isabel Judd, chair of the resident's bridge club and accepting the cheque on behalf of ABMSH, Mandy Stinson, Administrative Assistant. Photo by Nancy Peck
The Arnprior Rotary Club, an official sponsor of the Arnprior Braeside McNab Seniors At Home Program Inc. (ABMSH) Para Transit Care Coach recently presented $800.00 which is their yearly donation in support of the service. From left are Colin Borshevsky, Dennis Harrington, Executive Director ABMSH, Dave Palmer, President Arnprior Rotary and Bruce Buie, Secretary and Past President.  Bruce also proudly displays the 2019 Rotary Club's cash calendar now available at various locations including Seniors at Home, 106 McGonigal Street West. The bonus 'early bird' draws of $500 $300 and $200 take place 4:00 pm on Saturday, November 24,2019 at the Christmas Craft-Bake-Business Fair at the Nick Smith Centre/Masonic Hall.
Northern Credit Union selects ABM Seniors at Home for their October Community Partner
Para-Transit Coach Fundraiser reaches $20,000 – September 30, 2019
WOW! We've reached the $20,000.00 mark on our goal of raising $30,000.00 for our Para Transit Care Coach! Our community depends on this service as it is the ONLY specialized transportation service in Arnprior and McNab/Braeside. If you have not donated to this vital service, please do so by donating here or visiting our office at 106 McGonigal St. West, or call 613-623-7981. If you live in this community, odds are that you or someone you know has used or will use this service at some point in their life. Let's keep the CARE COACH thriving in our community!
Para-Transit Coach Fundraiser reaches Half Way Goal – August 20, 2019
Over $10,000 Raised in our Yellow Envelope Campaign
 Help us reach our Goal of  $30,000 in support of our Para-Transit Care Coach! The ONLY specialized transportation service for people of all ages in Arnprior and McNab Braeside. OVER 22,688 trips provided since 2008! Please donate generously either through our website, www.cssagency.ca, by mail or in person at 106 McGonigal St. West, Unit A1, Arnprior, K7S 1M4, or call 613-623-7981. Every bit helps to keep this vital service operating in our community.
Seventh Annual Yellow Envelope Campaign now underway – June 2019
You may have recently received this letter with your mail. We encourage you to take a moment to read it. This year marks our 7th annual campaign to raise funds for our Para Transit Care Coach, the ONLY accessible vehicle service in Arnprior & McNab Braeside. This vital service relies on the generosity of your donations. Since February 2008, we've provided 22,688 trips for people requiring accessible transport…whether to work, appointments, social functions or to and from the hospital, members of our community rely on this service, and perhaps you may too! For more information on donating or if you are a business or organization interested in sponsoring our Care Coach, please call 613-623-7981 or email [email protected]
Grand Parade raises close to $10,000 for Arnprior Seniors at Home – June 2019
June 06, 2019 by Becky Ranger, Arnprior-Braeside-McNab Seniors at Home
Everyone loves a parade, especially one for a great cause!
On Saturday, June 1 Arnprior was host to its first annual The Grand Parade, a national walk-a-thon benefiting Seniors Support Services, across Canada. The event was held at Arnprior District High School and followed a route through downtown Arnprior. Arnprior-Braeside-McNab Seniors at Home program partnered with The Blue Sea Foundation, a charitable organization located in Kitchener, Ont. to make the event possible. The Blue Sea Foundation is also responsible for other charitable events, such as Coldest Night of the Year and the Ride for Refuge.
"We were so pleased to be able to work with The Blue Sea Foundation on this event – as a small non-profit agency, their expertise and resources were monumental in making this event a success, here in Arnprior," says Becky Ranger, development co-ordinator for Seniors at Home. "While final numbers are still to be announced, we expect to be close to the $10,000 mark, and this is just our first year."
Once fundraising numbers are finalized, Seniors at Home will receive a grant from The Blue Sea Foundation for 70 per cent of the profits raised.
"Given the overhead costs of hosting events, and the many resources provided by Blue Sea, this has been a great partnership for us that we hope to continue in the future," said Ranger.
Approximately 80 people participated this year, either as walkers or volunteers and the Arnprior-Braeside-McNab Seniors at Home Program would like to see this grow in the years ahead.
"We are so grateful to all who participated and helped get the event off the ground – we can't wait to make it bigger and better, next year!" Ranger added.
To be part of the walk, participants either chose to pay a registration fee or pledge to raise a minimum of $150.
"Special thanks to Tim Hortons and Oldies 107.7 for sponsoring the event. You can expect to see advertisements for next year's walk in March 2020, but if you would like more information or are a business interested in sponsoring next year's event, you can contact Becky Ranger, [email protected], 613-623-7981"
RBC Arnprior Branch Donate $1000 in support to Seniors at Home Program – March 2019
Dennis Harrington, Executive Director ABMSH and Becky Ranger, Development Coordinator ABMSH, accepting a cheque for $1000 from Jackie Laughlin, RBC Arnprior Branch Community Manager. They are surrounded by RBC volunteers at the St. Patrick's Day Breakfast, on Saturday March 16th.
Arnprior & Area Rural Health Hub support the 2018 Angel Tree Campaign
Thank you to the Arnprior & Area Rural Health Hub, for their support of our 2018 Angel Tree Campaign. The Rural Health Hub brings together the resources and expertise of Arnprior Rural Health, the Arnprior & District Family Health Team, Renfrew & County District Health Unit, Arnprior-Braeside-McNab Seniors at Home Program, and Champlain LHIN's Home and Community Care, to focus on improving access to local services, making transitions between service providers as seamless as possible. Pictured here, presenting a cheque for $378.00 to Dennis Harrington, Executive Director (ABMSH), is Susan Leach, Vice President Patient/Resident Services and Chief Executive Nurse (left) and Karen Simpson, Executive Director Arnprior & District Family Health Team (right).