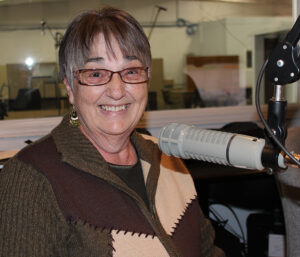 "Marion Eidsness who draws on her experience of working in the senior service sector and managing volunteers in community agencies is the host of the "Seniors in our Communities" program that is on air each week at Valley Heritage Radio, 98.7 FM. It airs Tuesday between 12:30 pm to 12:50 pm.
"This program has been on air since 2007. It is sponsored by 10 of Renfrew County's community support agencies in partnership with Valley Heritage Radio. "
Valley Heritage Radio Station Covid Restrictions continues to allow a return to the studio and features over the phone interviews with our weekly guests.
Topics for "Seniors in our Community for November and December 2022″

Tuesday, November 29, 2022                Nikki Rumbelow, Arnprior-Braeside-McNab Seniors at Home
Tuesday, December 6, 2022                   Dana McCabe, Arnprior Seniors Active Living Centre,
Tuesday, December 13, 2022                  Kathy Blomquist, Ottawa Valley Community Arts Study on Ageism 
Click Here to listen to Seniors at Home's Nikki Rumbelow's November 29 Interview with Marion Eidsness.