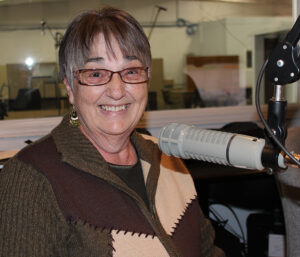 "Marion Eidsness who draws on her experience of working in the senior service sector and managing volunteers in community agencies is the host of the "Seniors in our Communities" program that is on air each week at Valley Heritage Radio, 98.7 FM. It airs Tuesday between 12:30 pm to 12:50 pm.
"This program has been on air since 2007. It is sponsored by 10 of Renfrew County's community support agencies in partnership with Valley Heritage Radio. "
Marion is now welcoming our program guests back to the studio. Phone interviews will occur occasionally.
Schedule of Seniors in our Community Radio Show Topics 
Tuesday, September 19, 2023               Shelley Yantha, North Renfrew Long Term Care and Community Services
Tuesday, September 26, 2023              Joanne King, Barry's Bay and Area Home Support