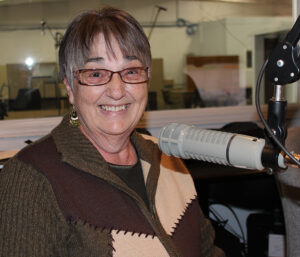 "Marion Eidsness who draws on her experience of working in the senior service sector and managing volunteers in community agencies is the host of the "Seniors in our Communities" program that is on air each week at Valley Heritage Radio, 98.7 FM. It is aired Tuesday during the noon hour.
"This program has been on air since 2007. It is sponsored by 10 of Renfrew County's community support agencies in partnership with Valley Heritage Radio. "
Please note that as of late June 2022, Valley Heritage Radio Station Covid Restrictions have been altered that allows a return to the studio, the program will be 20 minutes long and feature over the phone interviews with our weekly guests. The program will also include airing some of the previous segments that were previously recorded.


Calendar of programs for Seniors in our Community radio program
Tuesday, July 26, 2022                             Dennis Harrington, Renfrew & Area Seniors Home Support
Tuesday, August 2, 2022                      Erin Wilson, Bonnechere Manor Day Program   
Tuesday, August 9, 2022                      Shelley Yantha, North Renfrew Long Term Care and Community Services
Tuesday, August 16, 2022                    Margaret Ann, Griffith Farms Market.  
Tuesday, August 23, 2022                    Kathy Blomquist, Honoring Seniors, Ottawa Valley Community Arts program
Tuesday, August 30, 2022                    Dana McCabe, Arnprior Seniors Active Living Centre  
Click Here  and on the play button at the bottom of the page to listen to the July 19, 2022 program, featuring Marion's chat with Suzanne Giroux, Development Coordinator for Arnprior/Braeside/McNab Seniors at Home.